I have been writing this post in dribs and drabs now for nearly two weeks. Adding things here and there so if it is a little disjointed forgive me. I had actually intended to post on Monday but was unable to bring myself to do so after the horrific events over the weekend. We are close to the ravaged areas but still far enough away to be very safe. Thank you to everyone who has checked to make sure we were OK ... amazing kindness in this blogging world! This very sweet girl who I am so pleased to have gotten to know ... even gave me a call to check on us!
Marysville photo ABC online
My heart goes out to those of you who have been affected. I can't imagine what you must be going through right now. I am brought to tears at the sight of tent cities, broken families, little children without homes and worse....I'm sure you have all seen the great things that have been happening in the blog world to help out those affected.
Jenny at Amitie is a collection point for Handmade Help.Gillianoriginally contacted me about this fabulous effort.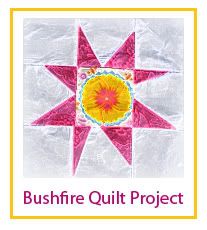 I also just stumbled across Tiawho has organised an amazing project and again with the generosity and help of Kim this effort is off to a flying start!
I am sure that there are many more amazing projects out there that you could get involved with, otherwise you can be like our family who have given cash by donating to the Red Cross. Coles Supermarkets are also donating the profits from Fridays takings so that's where I'll be this afternoon, stocking up my pantry.
So what have we been up to and why have I been hiding for so long???? Mainly because of this project which has a deadline that is rapidly approaching ....
Unfortunately, I can't show you it  properly just yet but you will see it later in the year hopefully. Some of you have asked about the Living Creatively challenge quilt I showed a snippet of a few posts ago ... 
The competition hasn't been decided as yet so I can't show you it either except for a snip-it of the quilting. It's a design that's new to me and although it was time consuming I loved doing it and I was really pleased with the overall effect.
This is the backing fabric which is a gorgeous Prints Charmingprint in all of my favorite colours. I picked it up from Ballarat Patchwork.
Predominantly, though my time has been taken up setting the kids up for the year ahead. The three big kids returned to school last week. Megan in grade 4 and Ben & Jess in grade 1. It seems that life is marching forward at an unbelievable pace ... wasn't it just five minutes ago that I was dreaming about who they would become and what they would look like as they grew in my tummy?
Joshua is settling into 4 year old kinder ... all be it under sufferance. Joshua's very best friend was not in his settling in group last week and when he discovered this, well in his mind it was quite pointless to even attend kinder.Thank goodness they are back together this week and their hours are steadily rising to a point closer to what it will actually be. He was particularly knocked out after Tuesday's 5 hour session. Those of you who know our Joshua know he is no shrinking violet. He is a boy of MANYwords. In fact if often feels like machine gun fire some days when he gets on a roll. However, after kinder on Tuesday he had NO words at all ... nothing ... all he could manage was to lay on the floor and a little Nintendo ... he wasn't even hungry!
Megan has begun swimming training twice a week ... so early in the morning that I'm frightened to say the time out loud as I may be struck down by lightening. She has also dropped out of art classes & dance in a bid to throw herself wholly into tennis which she told me late last year has been a life long goal of hers ... from which apparently I have been holding her back :). Her poor little face was so red after playing in 34 degree heat last Friday afternoon that she almost glowed!
Jessica started art classes yesterday ... taking up Meg's vacated position. Jessie, Ben and Joshua will continue with dancing ... much to Daddy's dismay. Why is it a problem for boys to take dancing lessons when girls can participate in predominantly male activities and no one would bat a eyelid?  
Ben began Karate last week with the whole family looking on ... and within 10 minutes the two girls also joined in eager to get a 'cool' costume & shout loudly 'from the strength that lies within their stomachs'! Joshua wasn't keen ... he would rather play Mario Party!
So that's it ... although Ben will start piano at some point all of this will be what will occupy my comings and goings for the rest of the year.
Before I go I am going to point you off in the direction of a few lovely & clever people who have made some of my things... (I know I've seen more but sadly I forgot to bookmark all of them ...if you want to play along please email me with your details so I can link to you)...
In the next week or so you will find a new album in my sidebar that I am creating to show off some of the beautiful things that you guys have made using my patterns. If you have finished something from my tutorials or patterns then please send me a photo and your link so that I can include you too! (I wont include any photos that haven't been sent to me or that I haven't specifically been given permission to use)
Enjoy your weekend ... lets hope it's better than the last!
Kellie 
PS. Oh and I almost forgot to mention that Julie left my 2000th comment on Tuesday last week. I will be sending her off a little Don't look Nowlove soon. Thanks Julie and everyone else who takes the time to leave a comment I truly appreciate it ... I know how time consuming it can be!