Well we've been there .....
Image stolen from here .... not quite sure about that claim ......
set up shop and managed to sell enough patterns to justify leaving the little people & Mr DLN for far too many days to mention ...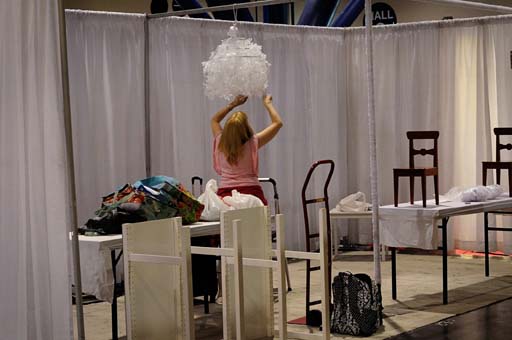 these trips are such hard work physically and emotionally ...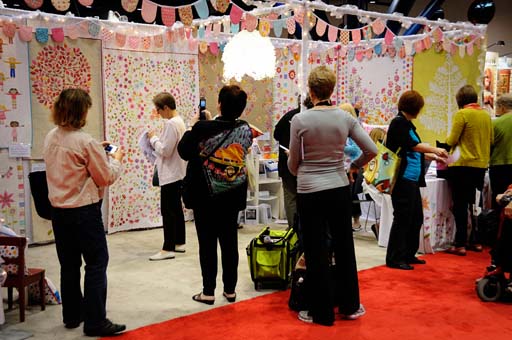 but it all pays off when you run into a few  people that make applique look like a Piece-o-cake ....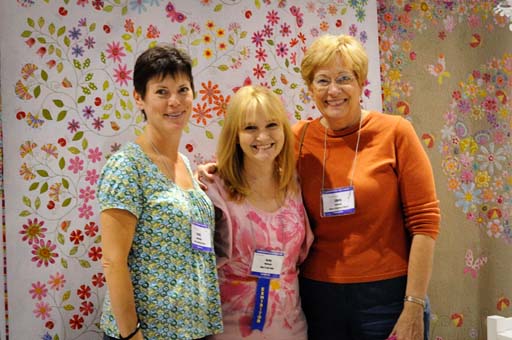 create magical quilty artwork delights ...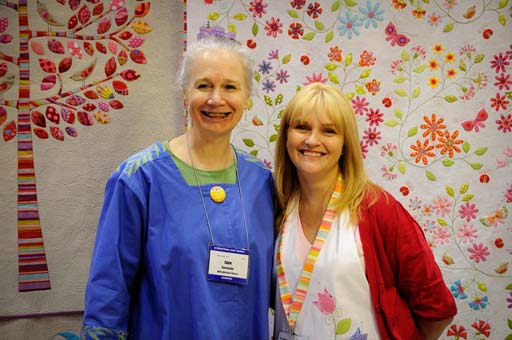 free motion like a God .... NB the Sweet Sixteen in the background ... surely I have room in my matchbox sewing room for you!!!!!
 and last but by all means not least .......
Kaffe... you can't imagine how my heart skipped a beat when you graced my stand with your presence! And as for the adorable Brandon and wonderfully grounded Liza... what a delight to meet you all and it makes me only long more for February and the Workshop in Ballarat... mind you when I told Mr Fassett that I would be attending his class in Ballarat he did say 'where?' ... so hopefully they will find us there girls!!!!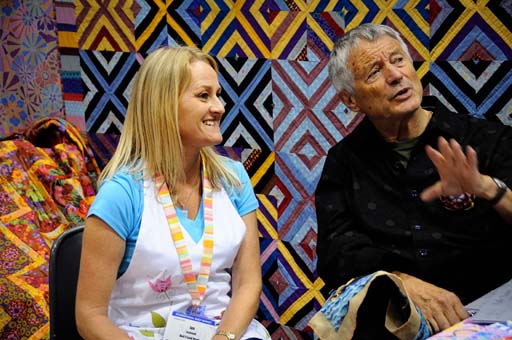 Thank you again to my georgous girls Jan (nice photo Jan!!!) & Anna ... and to my magical Sabrina for keeping the cogs working back home while I was away ... what would I do without you three????
Life is all back to normal again now ... I can always tell when my ... "I've miss you kids so much" feelings have worn off .... and so can my neighbours .... I'm sure they have enjoyed hearing me shout them off to school this week!!!! Oh how sweet to be back to normality!!!!!
One more workshop to finish off this years teaching arrangements and the Australian Quilt Market this weekend ... and then some time to kick back and sew  .... yay!!!!!!!
It's good to be home!!!!
Kellie x
PS. A absolutely huge thank you to everyone (and there were heaps!!!!) who offered to help us with bits and pieces for our stand in Houston! Maura & co. ended up helping us out .... Maura doesn't have a blog as yet so I can't link to her but take it from me this girl and her sewing / work buddy did some mighty fine free motion stitching during our class .... these girls were naturals! So incredably logical with their approach that it made the forming of the quilting patterns very easy! Thank you both, girls you went above and beyond!!!! Oh and thank you also to Mr Maura who did all of the deliveries and pickups .... what a star husband you are!!!!!