Have you been wondering where I've been hiding? Well brace yourselves because I am going to tell you whether you like it or not!!!!!!
The Monday before last Jan and I set out on an epic journey that ended up taking a whole lot longer than initially anticipated! 36 hours later, 4 times through Customs and 5 boarding passes later .... we landed in Minneapolis somewhat jaded but very excited to meet the infamous Thimbleanna ... and yes her post is going to be a whole lot more fun to read than mine so go read it right now!!!!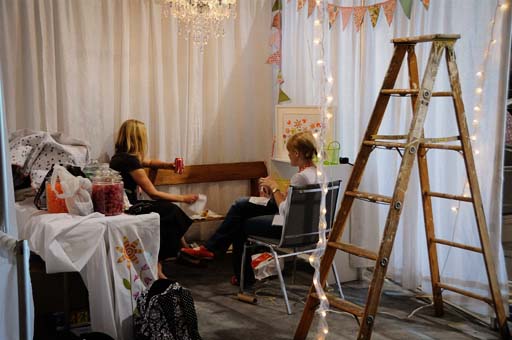 What brought the three of us to this very beautiful, stinking hot & sales tax free city I hear you all ask ... well the International Spring Quilt Market of course! The planning and anticipation that has been involved in this event has been responsible for many a sleepless night in the Don't Look Now household and the reason for such sporadic blog posts this year ...
So was it all worth it? Absolutely!!!!!
I had an absolute ball with Jan & Anna ... we laughed so much we cried ... over and over again!
... mind you we also worked bloody hard!
Oh and thank you yet again for the use of the Puppet Theatre Sue!!!!!! You saved my life yet again!!!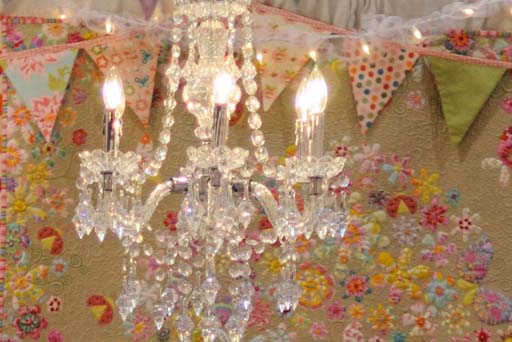 Anna was the design genius behind the entire stand ... gracing us with her beautiful chandelier ... that usually lives in her sewing room!!!!!!!! I wish!

This was our table at the highly anticipated Sample Spree 
Other than all of this hard work it was terrific running into so many wonderful Australian designers at market!!!!
This is the lovely Sue Daley who was an enormous help to me with planing the set up of the stand! Thank you so much Sue!
I was also really pleased to catch up with Anni Downs ... who I don't have a photo of and who I can't even steal a photo from because she hasn't posted about the show yet ... thank you Anni I am so grateful for the help and advice you gave me in the months leading up to the market!
And of course the gorgeous Helen from Pattern Press & Hugs & Kisses . This picture has been stolen from Helen ... because I didn't manage to leave my stand to take photos of everyone else's stands because most of the time I felt so nervous I could have vomited right where I stood!!!
Apart from all of the Australians at market I had the pleasure of meeting quite a few American VIP's!
This is the lovely Anne from Bunnyhill who stopped by the Don't Look Now stand to say hello ... mostly to our Anna but I thought I would get a photo too!!!!!
And I bet you can't even guess who bought my patterns to sell in their stores ..... shall I tell you?
 
The beautiful Nancy & Linda from Possibilities .... I love these guys!!!!! This would have to have been the highlight of my show!!!!!!  
And brace yourself ... last but not least ....Valori Wells!!!!!! You can now purchase my patterns from the Stitching Post! What I wouldn't give to go shopping there! Perhaps after Houston?
So now there are around 60 new retailers in the US that stock my patterns!!!! Yay!!!!!!!!!
I will start work on listing all of these over the next couple of weeks so stay tuned.
 
Thank you so much Jan & Anna for working so hard over the week of market I could never have done this without you both. Thank you for putting up with me and for making the down time so much fun!!!!!!!!! Please make sure you stop over an check out Jan's posts ... I was wondering what she was doing frantically typing away over the past few evenings .... she has posted a few beautiful posts about market & Minneapolis.
And as for the Don't Look Now family all the way over on the other side of the world ... well they haven't been having such a fun time without their Mummy. Mr Don't Look Now resorted to sending the littlest of the little people off to bed with a piece of my fabric to help him sleep .... I'm just hoping that it wasn't my best fabric - just joking Josh ... I of all people know how much better you feel when you cuddle fabric!!! Jessie has also resorted to my cuddling fabric ... but poor Joshua has also been crying at school ... perhaps Mr DLN should have sent him off to school with my Bernina ... that would make anyone feel better!!!!
I released two new patterns at market ... which I had wanted to show you all first but I ran out of time before we left ... so we will have the official unveiling this week sometime :) ... but if you take a look at my stand you will see a couple of unfamillar ones I'm sure!
Enjoy your week guys!
Kellie
PS. I have just arrived home and I have rescued my fabric! Joshua chose a very nice Michael Miller spot ... my boy has terrific taste!!!!!!!!
PSS. Anna has added another post about the week which is well worth a read ... apparently Jan & I talk a little funny! And just so that you all know ... we don't always wear the same clothes!